US Ski Team von Chile nach Neuseeland
"We'd really love to be in Portillo"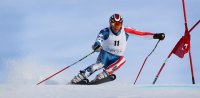 Press US Team
With a highly successful three-week camp in the books, the men's U.S. Alpine Ski Team is planning a return trip to New Zealand in September and early October. Traditionally the men's program has migrated to Portillo, Chile for its second camp.

"We'd really love to be in Portillo, but the snow pack is a little light to be sure we'd be able to have a full speed track through the end of September, so we're going to mix things up with Mt. Hutt this season," said Head Coach Sasha Rearick. "Portillo is always great to us and we'll definitely be going back there next summer."

Instead, the Team will set up shop at Mt. Hutt, just over 250 miles Northeast of Coronet Peak, where they were based in August. U.S. women will keep their Chilean plans on track with speed training in Portillo and tech training Valle Nevado.

"It's tough in some ways because the speed training we have in Portillo is awesome," said Olympic gold medalist and reigning Audi FIS Alpine World Cup giant slalom champion Ted Ligety (Park City, UT). "But New Zealand is a really fun place to live for a few weeks. I'm looking forward to heading back."

The men's World Cup speed and tech Teams will base out of Mt. Hutt in addition to the NorAm and Europa Cup groups from mid September until early October.

"Mt. Hutt is higher in elevation than Coronet Peak and there's a lot of room so we're able to downhill, super G and giant slalom all going at the same time," said Rearick. "Our C Team guys are going to combine efforts with the New Zealand Ski Federation for training as well. We have an awesome partnership going with those guys and it's cool to see that continue with this camp."

The August camp at Coronet Peak featured solid training that translated into solid results in Continental Cup and FIS races for U.S. men. To close the camp, U.S. men nabbed nine of 12 podium spots across two FIS giant slalom and two FIS slalom races.

"Our young guys definitely stepped it up," added Rearick. "Colby Granstrom [Lake Stevens, WA] really made some huge strides and you can see that in his results. The races help us simulate a race-day and help the guys with mental preparation, but what the entire Team is doing on the snow at this point in the year is awesome."

For Ligety, who was second in a Continental Cup giant slalom behind Warner Nickerson (Gilford, NH) and ahead of Bode Miller (Franconia, NH), heading back to New Zealand provides another opportunity for him to fine-tune his new equipment quiver after switching to Head. Marco Sullivan (Squaw Valley, CA) is also excited to test some new downhill boards after making the transition to Rossignol.

"I figured out a lot of things in giant slalom and slalom," said Ligety. "Those setups have been narrowed down, but I only took a few runs of super G last month and we haven't had any downhill training yet, so there's still a lot to do."

Check out a video of Bode Miller (Franconia, NH), Ligety and the U.S. Ski Team at Coronet Peak on the U.S. Ski Team YouTube channel.
Report: Michael Thomas/Coronet Peak.