David Wise and Virginie Faivre win
World Championship 2013 Halfpipe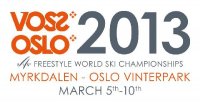 05.03.2013, VOSS/OSLO
One of the best displays of halfpipe skiing to be seen in recent memory went down on Tuesday night under the lights of the Oslo Vinterpark at the the 2013 Voss/Oslo FIS Freestyle World Ski Championships. And when it was all said and done, Crown Prince Haakon of Norway personally crowned two new world champions.
From the get-go it was clear that the World Championships halfpipe event was going to be a special one, as the first 15 minutes of training alone saw a small arsenal of double-corks and 1080+ spins launched out of the near-perfect Snow Park Technologies-built pipe.
The ladies' competition showcased some strong skiing from the 12th place qualifier right through to the top, but at the end of the day it was the red-hot Virginie Faivre (SUI) who was able to walk away with the gold medal and the title of "World Champion." Faivre's run wasn't the most technical of the day - that distinction went to silver medal winner Anais Caradeux (FRA) - but Faivre's combination of clean style, clean landings, and consistent amplitude was enough for her to claim the win with a score of 83.6.
Caradeux, for her part, showed some impressive skiing, including a first-hit 900 that was likely the cleanest of the day, and for her efforts was rewarded with a score just strong enough to eke out 2nd place ahead of top qualifier Ayana Onozuka. Onozuka skied solidly throughout qualification and finals but just couldn't up the ante on her final, contest-ending run when she needed it the most.
2011 world champion Rosalind Groenewoud was in the hunt for gold in both of her finals runs, but her inability to cleanly put down a final-hit 1080 kept her well off the podium.
On the men's side, fans were treated to an event that certainly had to be one of the most progressive contests of the season, with a level of technical proficiency, amplitude, and style on display that at times neared the sublime.
If there was a gold medal for biggest air of the day, Joffrey Pollet-Villard (FRA) would have taken it before being carried away on the shoulders of the fans. His 3rd hit, seven-meter-plus flat-spin 540 was absolutely astonishing, putting the young skier in the conversation for "biggest single contest hit ever." The smoothest style award might have gone to 1st-place qualifier Matt Margetts (CAN), while the warrior award would have been given to Kevin Rolland (FRA), who laid down a solid second run after crashing hip-first into the lip of the pipe from 15 feet in his first run.
However, at the end of the day it was the young men ranked number 2 and 1 in the world who would stand at numbers 1 and 2 respectively on the podium, as David Wise (USA) and Torin Yater-Wallace (USA) hosted a clinic on the state of today's halfpipe skiing.
Thomas Krief (FRA) threw down what was perhaps the best run of his life to take an early lead in heat one, but when Yater-Wallace dropped in three skiers later, it was clear that that lead would be short-lived. Yater-Wallace's run was absolutely explosive, and his score of 95.6 - to Krief's 94.2 - looked like it might be unbeatable.

Full men's and ladies' results of Tuesday's Voss/Oslo FIS Freestyle World Ski Championship halfpipe finals can be found here: http://live-scoring.at/fis3/wschp
David Wise - X Games 2013
TRICK LIST:
Top 3 Ladies:
1.
Virginie Faivre (SUI
) - Mute, alley-oop mute, left-side 540 safety, right-side 540 safety, air to fakie, switch left-side alley-oop 540 safety
2.
Anais Cadareux (FRA)
- left-side 900, double Japan, left-side 540 tail, alley-oop 540, mute, Japan, left-side 720
3.
Anaya Onozuka (JPN)
- mute, alley-oop safety, left-side 540 safety, right-side 540, left-side 720, switch right-side 540
Top 3 Men:
1.
David Wise (USA)
- Left-side 900 nose, right-side 720 lead mute, switch double-corked 1080 Japan, right-side double-corked 1260 mute, left-side double-corked 1260 mute
2.
Torin Yater-Wallace (USA)
- Right-side double-corked 1260 mute, left-side 1080 tail, switch right-side 720 double Japan, alley-oop double-corked 1080 Japan, double-corked down-the-pipe 900
3.
Thomas Krief (FRA)
- left-side double-corked 1260 tail, alley-oop double-corked 900, left-side 900 tail, right-side 1080 safety, switch left-side 1260